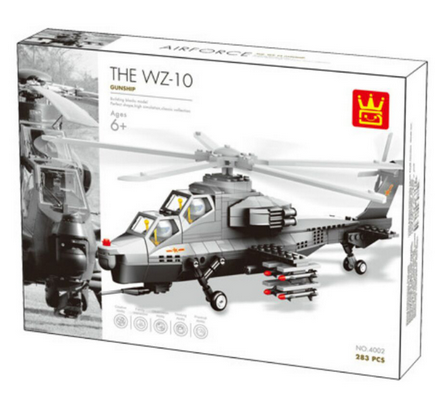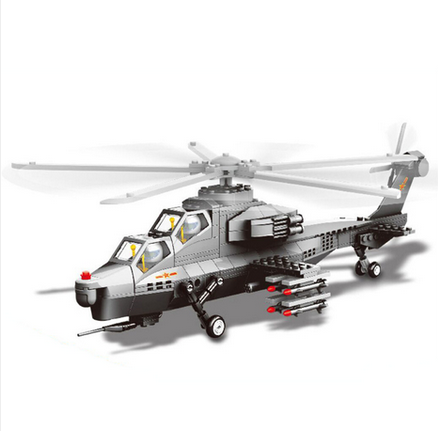 WANGE 4002 - WZ-10 Fiery Thunderbolt Helicopter Gunship
$22.99
$38.77
The WZ-10 is China's first domestically designed and produced attack helicopter, superficially comparable to Western counterparts such as the American AH-1 Cobra and AH-64 Apache, or the European PAH-2 Tiger. The design features a reduced signature fuselage, such as was incorporated in the abandoned American RAH-66 Commanche. But the WZ-10 must represent something of a disappointment for the Chinese. Although weighing about the same as the AH-64 Apache, it carries only half the armament, comparable to the much smaller AH-1 Cobra. And appearing some four decades after the American Cobra, it represents a retrogression relative to the typical two decade Chinese lag in military hardware compared to the United States.
• Material: environmentally friendly ABS
• Number of pieces: 283

Recommended Ages: 10 and up
Not available for international shipping

Wange building bricks are 100% compatible with LEGO Bricks, Kre-O bricks and MEGA Bloks.
Happy building!
For extra fun… bring your WANGE Helicopter set to life with Light Linx!
Light Linx light strings are fully customizable, easy to install, and can work with any brick set!
Click HERE to learn more! 
Don't know where to start?
Give us a call! We are always happy to help you select LED strings to light your build!
Brick Loot handcrafts plug and play lighting solutions
that work with LEGO and other major brand brick sets.
You will never need to worry about the technology!
Design – Build – Inspire